28th September 2017
DJ Matt Maurice discusses his background within the music and DJ industry and what's coming up next
My passion for both music and music collecting started in my ealry youth when I'd spend all my Saturday job wages in the pursuit of collecting every release from the top 30 pop charts.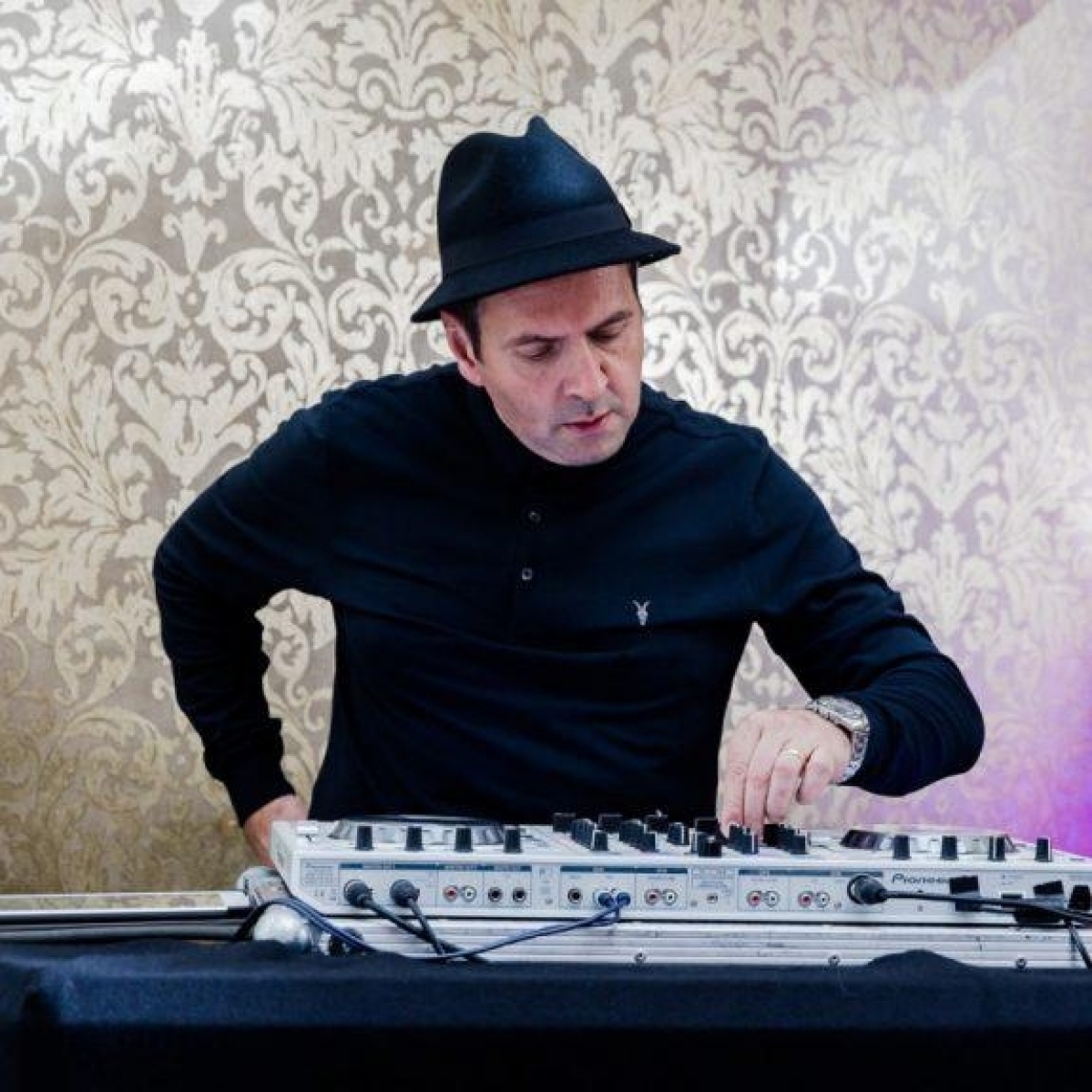 The Early Years!
My passion for both music and music collecting started in my ealry youth when I'd spend all my Saturday job wages in the pursuit of collecting every release from the top 30 pop charts.
As my vinyl music collection grew, I would occasionally be asked to supply the music for the local youth club with the records played from a single portable Fidelity HF42 Record Player with a built-in speaker. I'm unsure what happened to this original record player, but I've since purchased another from eBay!
Things have come a long way from these humble beginnings with one record deck to the company I run today. Formed in 2000, Matt Maurice Event Music is the culmination of countless club nights, bars, DJn at weddings, parties and corporate events.
My first professional DJ sets started when I was about 15 with a Soundout double deck unit, two large unbranded speakers, a rope light and 2 sound-to-light traffic-light styled lighting units. My foray into nightclubs began at around the same time with an introduction to a pair of Technics 1210s. Starting out as nightclub glass collector, it was only a matter of time before I was playing the first hour of warm up and being taught the joys of "beat mixing" by the resident DJ Tony Ridgeway. 80's soul and dance was the main soundtrack to the night and so began my journey. Many of the early house music tracks began to break through at this point in the mid-80s and being able to play these in my early warm up sets was a joy. I also don't recall ever feeling at all nervous playing these early club sets.
At the same time, I was still playing out as a mobile DJ for parties in London with my trusted Soundout decks. For one of my first full-time day jobs, I was lucky enough to obtain a youth training placement at Chrysalis Records. At the time, Chrysalis were one of the largest independent record companies in the UK with artists such as Spandau Ballet, Billy Idol and Blondie to name but a few, along with their in-house dance label Cooltempo.
Going Pro
1986 also took me out of the UK for 6 weeks DJing on the Greek island of Corfu. Under the guidance of one of Greece's leading club DJs at the time, I perfected my mixing skills with a blend of Eurodance, house and pop music. In '87 I ventured into pirate radio, gaining a Sunday morning slot on a London radio station called TKO, a fairly big Soul Music station at the time and a rival to London's other big pirate radio stations LWR and the now very legal Kiss FM.
In 1988 the Acid House scene exploded across the UK and after a visit to the then-unknown Paul Oakenfold's Balearic club night Future, my eclectic love of all music grew with my friends and I attending this weekly gathering to hear both Paul and DJ Tony Wilson's sets. In 1989 I also gained my first UK club residency with one of the longest running club nights from a mix tape I'd sent in to promoter Joe. This was Club Labrynth, under the alter ego of DJ Vinyl Matt. Club Labrynth allowed me to play alongside some of the very first live gigs of the Prodigy, as well as a host of legends from the house, hardcore and drum & bass music scenes. I continued playing out at many private parties and events whilst also travelling around the UK to play various one-off club and warehouse party DJ sets.
Not Just a DJ!
By 1991 I had produced my first record, though its signing ended up being dropped by ffrr since we'd sampled too many other records to make it. Despite that, it still made it to number 4 in Mixmag's house chart, solely off the back of a white label release.
The crowning glory of 1992 was my second DJ set abroad, this time in Ibiza at the legendary Es Paradis club. 1994 provided another career highlight, playing at Wembley on New Years' Eve. I remember finishing a party set at 12:30 in South London then speeding over to West London to perform in front of 14,000 ravers. It marked the end of a year in which I had also signed a singles record deal with Pulse-8 records under the name of Sweet Life. Other artists signed to Pulse-8 included dance acts Rozalla and the Urban Cookie Collective. At this point, I concentrated my DJing efforts on club work and as a result, my private work dropped off. Like many independent record labels, Pulse-8 eventually became defunct with the owner launching a new label as Inferno records. Their biggest signing was girl band Mis-Teeq and thanks to my affiliation with Inferno I played at the Ministry of Sound on numerous occasions at Inferno parties.
The increase in demand for private party and corporate event DJ work necessitated an investment in new equipment by 1997. As I result, I purchased my first dual CD player, a Kam KCD950. It did the job as required, although these early dual CD players had a habit of jumping, like their vinyl counterparts. I still used vinyl alongside the CD players, and continued to do so up until 2003 I went all CD in around 2003. My first lighting equipment consisted of 4 Abstract Twister 4s.
The Birth of event DJs
At the dawn of the new millennium in 2000, I gained a Friday residency at the infamous celebrity hangout the Met Bar in London. On my very first night at the Met Bar a guest asked if I could play his Christmas party and handed me his business card, which was great. The fact that it was in New York was even better. Three weeks later I was DJing in a Manhattan loft playing to a discerning guest list with the Empire State Building as my backdrop! Although breaking my arm in a bike accident the day before I was due to fly, like a true pro I still honoured the event playing the gig with just one arm! Following on from the Met Bar, I moved to another short DJ residency, this time at Richard Branson's club, the Kensington Roof Gardens.
At around the same time, I began freelancing for another DJ named Steve Lewis. This resulted in many epic nights, the highlight of which had to be a clifftop party at the Cannes Film Festival for Vanity Fair Magazine. For this event, all the kit was imported from the UK, two Technic 1210s, a Denon CD player and a Rane mixer - the sound for this outdoor event was amazing! During this period, I had the pleasure of entertaining the likes of Nicole Kidman, Hugh Hefner, Jackie Chan and numerous other A-list celebrities from around the world.
At the end of the Vanity Fair party, I was asked if I would like to play the after-show party at the Oscars in LA. Unfortunately, as I was playing under another company the boss took the gig, but I couldn't blame him for that! I also owe a lot to Steve for some of my early events experience. Other memorable parties at around the same time included the Rugby World Cup Winners' Party in London and the Goodwood Festival of Speed after-show party, which I played for three years in a row. I performed on stage with a different legendary British artist each year at Goodwood, including Brian Ferry, The Pretenders and Steve Winwood.
Chrysalis Records and Bootlegs

In 2000 I launched Matt Maurice Event Music and this was the year I also started employment with the UK's biggest independent music distributor, Pinnacle Records. My new day job started off in the dance sales department before progressing to the national accounts team, looking after the sales of singles into Music Zone, Andy's Records, Tower Records, Virgin Online and (the only one left still trading today) HMV.
I received several BPI Gold discs at Pinnacle Records for my work with artists including Katie Melua, Tiesto, The Killers and Feeder. Prior to Ms Melua's rise to fame, not only did I have the pleasure of sitting next to her whilst she sang most of her debut album, I also organised her first in-store UK record shop tour. Every year Pinnacle would hire a leading London club for their Christmas parties, although it did seen a little out of place dropping a party set at Fabric, Pacha and Ministry of Sound!
2003 was the year I launched my own record label Playable Music, primarily a vinyl music label releasing mash-ups and bootlegs. The biggest of these titles was The Rolling Stones "Sympathy for the Devil". We circulated a rumour to Virgin Records that it was a Fatboy Slim remix but this backfired somewhat when they then commissioned him to do an official remix and not us! Not only that, Fatboy Slim used some of the acid lines and sounds we'd used on our remix!
We were also approached by Hed Kandi for our Donna Summer remix of "Autumn Changes" and commissioned to remix for the Ministry of Sound Winter Chill album. We received the 'Bootleg of the Month' accolade four times in DJ Mag and had regular plays of our remixes on Radio One, XFM and the like. The last vinyl release on the label was in 2005 just as the bottom fell out of the vinyl market.
Another one of my finer remix moments was of Bob Marley's "Jamming", which was included on Mastermix issue 274 in 2009. All the remixes were recorded under the name of Lost Vegas with my production partner Steve Andrews. We still remix and record just for the love of music, but now give the tracks away for free on Soundcloud. Our most recent release featuring vocalist Kelli-Leigh (Duke Dumont, James Hype, Ferreck Dawn) is "Hypnotising" and is currently on Spotify.
In 2006 we played our first celebrity wedding for Big Brother's Chantelle & Preston. They may be distant tabloid memories now, but it was a pretty big deal at the time and we were included in the coverage for OK! Magazine, as well as the book. Further high-profile weddings followed, including one playing alongside singer Duffy for a Russian oligarch on the Italian Amalfi Coast, the wedding of photographic legend Rankin and the wedding for Nick Mason's (legendary drummer of Pink Floyd) daughter. This included a priceless moment with Nick Mason playing a cover version of Sister Sledge's "We Are Family".
Matt Maurice Event Music
Matt Maurice Event Music's growth has been organic and steady with the last two years being our busiest ever. We now specialize in high-end weddings and parties, offering wedding DJs in London either with equipment or on a DJ only basis. The wedding industry is huge for us and we invest a lot of time and money on marketing our business in the relevant niches to keep our name at the top of the industry across the South East.
My wife Lotte and I run the company, with Lotte's previous senior management experience with a large retail company being invaluable in both looking after our client base and helping to select our team of DJs. Lotte also has a great eye for detail in selecting the DJs and this comes across well in the image we strive to create. As a company, we look for DJs with something different to offer, with a speciality in a genre other than dance music always a bonus. We'll always put forward the most suitable DJ for the party or event rather than just who may be available with us keen to take on new emerging DJ talent to push to the forefront of the business.
Regrettably, I sold most of my 25,000 vinyl 12"s but I'm still an avid collector of 7" singles and although rarely used, I still have my original technics 1210s in the office should any client require a vinyl DJ for the party, wedding or event production in London.